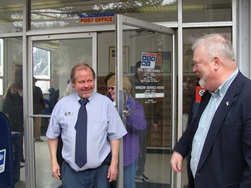 Save the post office. That was the rally cry in downtown Douglas yesterday (Wednesday) as a crowd of about a hundred urged Congress to pass legislation to keep open the community's post office.
The Douglas station is one of more 36-hundred post offices nationwide being considered for closure by the financially strapped United States Postal Service.
Casey Kelly has more.
A flatbed truck served as a makeshift stage at the noon time rally. Organizer Susanne Williams stepped to the microphone and urged residents to contact Alaska's Congressional delegation, especially Senator Mark Begich.
"He is on the Homeland Security and Government Affairs Committee, which oversees the U.S. Postal Service," Williams said. "He's the critical one. You need to contact him this week."
Williams even handed out pre-printed postcards.
Sally Smith with Begich's Juneau office said Congress is unlikely to act on Postal Service budget relief legislation until after the Easter holiday, giving residents more time to send in their comments. Smith says Begich is working hard to keep all Alaska post offices open.
"We don't have promises, but we have hope. And you're helping to reinforce that hope by being here," said Smith. "The postcards that you send, when you send them to my office, they will go into the scanner. They will get to D.C. as quickly as we can process them in the office. I'm sorry guys, they won't go by mail."
The Postal Service's financial problems have been well-documented, ranging from the economy, to the Internet, to a 2006 Congressional mandate requiring the Postal Service to pre-fund retirement benefits.
USPS Alaska Region Spokesman Ernie Swanson says the agency has proposed several solutions to the budget shortfall – including discontinuing Saturday delivery and removing the requirement to pre-fund retirement.
"But to this point, Congress has not done anything to grant us any of that," Swanson said. "So, it's still sitting there, waiting to be decided upon."
Congress did ask USPS for a moratorium on post office closures through May 15th. Swanson says no decision has been made on any of the more than 36-hundred locations nationwide being considered for closure. And while the agency is done taking comment, it does take note of demonstrations like the one in support of the Douglas Post Office.
"We don't ignore things like that. We are interested in what the community thinks and how strongly they feel about their postal situation," said Swanson. "So that will have a bearing, but I can't put a number on it, as to how much of an impact it would have."
Pat Peterson thinks it would be mistake for the Postal Service to close the Douglas Post Office. The owner of the Douglas Inn bar and president of the Douglas 4th of July Committee has lived in the community all his life.
"Got my post office box in 1975," said Peterson. "It's been through two divorces. It's the only thing my ex-wives didn't get."
Seriously, Peterson says the post office is vital to the Douglas community.
"They take good care us," he said. "And if I have something and I haven't picked it up, they'll call me up and say, 'Hey, come down and get your mail.' So, the service is really personable and they're just good people to know."
The rally ended up at the Post Office, where Juneau Mayor Bruce Botelho – who lives in Douglas – presented postal clerks Lee Kearney and Dean Ruby with certificates of appreciation to thunderous applause.
"You're the personification of the best of the service," Botelho said.
Kearney was visibly moved by the tribute.
"My great grandparents are buried right over here, and this community is just really something else," Kearney said.
Postmaster General Patrick Donahoe will make the final decision on which post offices to close. He'll consider input from the Alaska District Office, which held a public meeting in Douglas last September.
Four other post offices in the state are on the list for possible closure: the Anchorage Postal Store, and postal stations at Elmendorf and Eielson Air Force bases, and Fort Wainwright.