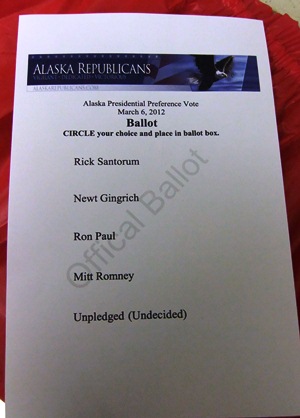 Mitt Romney was the winner of Alaska's Republican Presidential Preference Poll.
Alaska doesn't have a presidential primary election, but state Republicans Tuesday cast ballots for the man they hope will become the Republican nominee.
Alaska was one of ten states holding primaries, caucuses or polls on what's known as "Super Tuesday."
Romney also was Capital City Republicans' favorite candidate.
As Rosemarie Alexander reports, Juneau's Yacht Club – where local Republicans held the Presidential Preference Poll — was a very busy place.
"People were waiting when we opened the doors at 4 (p.m.), and it's been steady ever since," said Tom Boutin, a volunteer at Juneau's preference poll. He was checking voter registration at 6:30 p.m., with still an hour and a half before the poll closed. Boutin said the excitement in the room was not for a particular candidate, but against the Democrat in the White House.
"And I think the energy comes from that. Just an extreme unhappiness. Anyone I talk with they're not so concerned about who the Republican nominee is, but they're very concerned about the White House and wanting a change," he said.
Four candidates were certified to be in Alaska's Presidential Preference Poll: Newt Gingrich, Ron Paul, Mitt Romney, and Rick Santorum.
Four years ago, Alaska Republicans backed Romney. But not Phillip Gray. In 2008 he voted for McCain. At Juneau's poll on Tuesday, he and his wife Carol were glad to say they cast their preference for Santorum.
"I think he's the best conservative candidate," he said.
Carol Gray said she liked his stand on the issues. "I think he's got a good history on the way he has both conducted himself and voted," she said.
Alaska's Presidential Preference Poll binds the 24 Alaskan National Convention Delegates to the Republican National Convention, which will be held in Tampa, Florida in August. Three state party leaders will attend the national convention as unpledged, putting Alaska's delegate total at 27.
Republicans across the state also held district meetings Tuesday to elect delegates and alternates to the Alaska Republican Party State Convention, to be held in Anchorage at the end of April.
Statewide, with 98 percent of the preference votes counted, Romney had 33 percent. Santorum had 29 percent. Paul and Gingrich came in third and fourth, respectively.
In Juneau, Romney received 183 votes. Santorum had 125. Paul, 87, and Gingrich had 44 votes.