The lawsuit between a Juneau gun shop and the family of a painter murdered at the Fred Meyer store may've been the highest-profile case considered by the Alaska Supreme Court on Tuesday. But it wasn't the only significant case considered by justices. They also heard an appeal of a dismissed suit that centered on the tumultuous and controversial tenure of Hoonah's former police chief.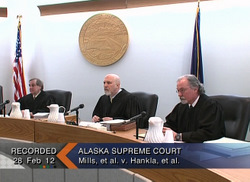 Jefferson Hankla is no longer on the job. Questions were initially raised about his alleged lack of experience and judgment for the job. Then, his year-and-a-half long term resulted in complaints and accusations that divided the community before he eventually resigned in September of 2009.
Three female dispatchers, including one who says she was sexually harassed by Hankla on a regular basis, and a former police officer who says he was the subject of retaliation, filed suit against Hankla and the City of Hoonah. But that case never made it to trial.
Attorney Doug Mertz says that was a mistake.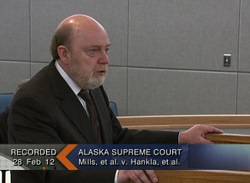 "There is liability unless they can show that he was not a supervisor, or we can show that — essentially — she reasonable thought he was a supervisor," says Mertz.
Mertz says complaints about sexual harassment at the Hoonah Police Department were ignored and an outside auditor's report that called for end to the pornography in the police department was also ignored. A sexual harassment policy in the employee handbook was never distributed. The Mayor's file of complaints against Hankla and Hankla's own personnel file both disappeared.
Three of the plantiffs in the case include Annette McLaughlin, Karen Mills, and Carole Welsh who alleged that Hankla repeatedly harassed her by asking to see her breasts. On her last day on the job, Welsh alleged that Hankla — as chief — harassed her one last time as she turned in her timecard.
Lieutenant William Mills alleged that he was forced to resign from his Hoonah job and take a position in Craig.
Mertz says the evidence included "allegations that (Hankla) spread around the community, the fact that he subjected Lt. Mills' mother to a complaint to the Postal authorities, a criminal complant, that was unfounded."
Attorney Jan Levy, arguing for Hankla and the City of Hoonah, says the former chief is not individually liable either as an employer or co-worker under the Alaska Human Rights Act. The harassment allegedly started while Hankla was a patrolman and then when he was a chief during Welsh's last day on the job. That prompted the Justice Craig Stowers to quiz Levy on the legal distinction between a superior or senior employee, and a supervisor.
"If it were the case that harassing conduct is something that affects terms of employment, if that's enough to make you a supervisor, (then) any co-worker can affect the terms of someone else's employment by harassing them," says Levy.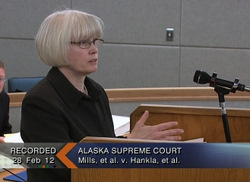 Later, justices pointed out separate instances in Welsh's affidavit and deposition in which she was told to consider all the patrol officers as her supervisors.
Levy's co-counsel Vance Sanders countered Mills' involuntary and constructive discharge claim. Sanders says Mills never said during a deposition that he was harassed, wages were never affected, there were no physical threats or demeaning comments, and there were no changes in hours or conditions that would indicate intolerable work conditions.
Sanders suggested looking to Mills' resignation letter in which he had nothing negative to say about the department.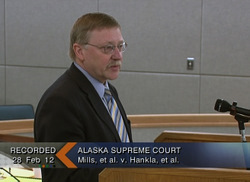 "That notice was a three-week notice that he gave to the Hoonah Police Department," says Sanders who says Mills was only required to give two-weeks notice.
Mertz, on rebuttal, claimed that the retaliation against Mills' family and friends included Hankla threatening to file a career-crippling complaint against Mills to the Alaska Police Standards Council.
Justices took all of the arguments under advisement. The Hoonah case was one of several considered by the Alaska Supreme Court in Juneau this week.
One of the justices may draft the opinion which may then be circulated among his or her colleagues on the bench. They may then add a concurring or dissenting opinion and continuing circulating it before it's released to the public. That could take anywhere from six-months to a year.