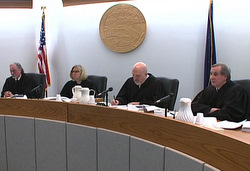 Nearly six years after the murder of Simone Kim in Juneau, the question of whether the gun shop should be held liable is now up to the Alaska Supreme Court.
Oral arguments were held Tuesday in the civil suit that followed the criminal case. The lawsuit largely turns on PLCAA, Protection of Lawful Commerce in Arms Act, the federal law which shields gun manufacturers and dealers from liability stemming from criminal or unlawful use of a firearm. Exceptions include a seller accused of negligence, negligent entrustment, or breaking any other laws on the sale of firearms.
Jonathon Lowy of the Brady Center to Prevent Gun Violence alleged that it was an illegal sale or just another one of the 200 guns that were sold off the books at Rayco Sales in Juneau.
"To put that in context, ninety-percent of gun dealers have zero guns missing from inventory," says Lowy.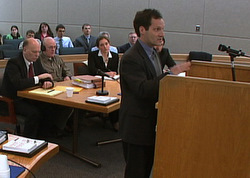 Former Nevada resident Jason Coday arrived in Juneau in August of 2006. He stopped in Rayco Sales, left $200 on the counter, and walked out with a .22 Ruger rifle while store owner Ray Coxe was preoccupied elsewhere. No Form 4473 was filled out by Coday. No background check.
As part of the argument that it was an off-the-books sale, Lowy contrasted apparent discrepancies in Coxe's statements. Was the store busy? Or was Coday really the only customer left?
"There's only one customer in the store. Coxe is personally attending to him," alleges Lowy. "(Coday) looks strange."
Kim, who sent money home to his parents in Anchorage, was working as a painter on the Fred Meyer expansion project. Kim apparently did not know Coday, but Coday was convicted at trial of walking up to Kim and firing four shots at point blank range.
Kim's sister and parents filed a wrongful death lawsuit against Coday and Coxe, alleging negligence, including inadequate security measures, a store employee leaving a customer alone with a weapon, no background check, no firearms transaction record, and a malfunctioning video survelliance system. Coday eventually defaulted out and the suit against Coxe was dismissed about a year-and-a-half ago.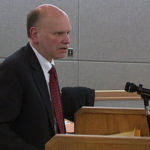 Tony Sholty, arguing for Ray Coxe, says the rifle was simply taken or stolen. It was not purchased or sold. He says without additional facts to support that, then it would be only speculation or conjecture to say that it was purchased. Sholty was quizzed repeatedly by Supreme Court Justice Craig Stowers on the issue until the judge came up with a hypothetical instance about his purchase of Sholty's pen on the courtroom podium.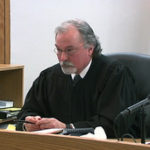 "Do you think that a reasonable person in the jury would conclude that I purchased your pen for five-dollars?" asked Justice Stowers.
"A reasonable person would think that you may have thought you were buying the pen," Sholty answered. "A reasonable person wouldn't have to think that I was intending to sell you the pen for five-dollars."
The Brady Center's Jonathon Lowy also says that PLCAA doesn't bar Kims' general negligence claim. But Lael Harrison, arguing for Coxe, says that's not what Congress intended.
"Particularly (with) the exceptions for negligent entrustment and negligence per se," said Harrison. "It doesn't make sense that there would be exceptions for those two particular types of negligence unless Congress intended that all other types of negligence be barred."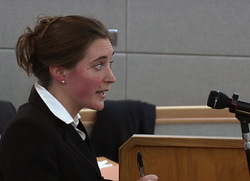 Lowy also argues the PLCAA violates the Tenth Amendment. Not so, says Ben Kingsley of the U.S. Department of Justice.
"The basic point is that this is a pre-emption statute," said Kingsley. "Under the supremacy clause, Congress can pre-empt state law and change the substantive law as it applies to the individual citizens of a state."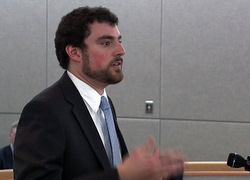 He says the law's constitutionality on that and other claims has already been upheld in most other jurisdictions.
"Congress can, in some sense, commandeer the state judiciary to apply federal law when federal law governs," said Kingsley. "And that's what this statute does."
During a long rebuttal, Lowy mentioned that Alaska's would be the first state Supreme Court to consider the constitutionality of the law. And he also questions other intrepetations of the law.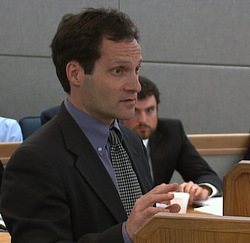 "Under Coxe's view of the law, he could literally place guns on the sidewalk in front of his store," said Lowy. "Have a tin cup, and say 'contribute money if you'd like' for the guns. And that would be completely legal because there is no knowing sale."
Arguments in the case were viewed by about thirty students from Juneau-Douglas High School teacher Gary Lehnhart's U.S. History class. After a chance meeting with Kingsley before Tuesday's hearing, Lehnhart says he invited him into his class to discuss the case, and Kingsley told them what he'd argue before justices.
Justices took all of Tuesday's arguments under advisement. Typically, justices take as much as nine-months to draft and circulate an opinion amongst themselves before it is released.
Other cases heard by justices included a lawsuit that stemmed from alleged sexual harassment at the Hoonah Police Department, and an appeal of issues in a Juneau couples' divorce.
Previous related stories on this case:
Family appeals suit against Juneau gun retailer
Coday murder trial continues
Video of oral arguments on Feb. 28, 2012: