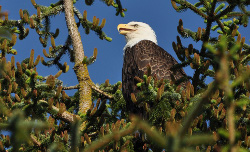 Should the City and Borough of Juneau be regulating development near eagle nests, and if so, to what extent?
The CBJ Planning Commission will take a look at those questions over the next several months and make a recommendation to the Juneau Assembly.
After failing to reach consensus on the issue the first time around, the Commission will have its work cut out for it. Casey Kelly has more.
Last week, the Planning Commission voted unanimously to recommend the assembly retain the city's entire eagle nest ordinance. But as Chairman Mike Satre told the Assembly on Monday, how they got to that decision was quite interesting.
"I dare say there were nine different opinions on the board that night in terms of getting to a no vote or a lack of recommendation for this," Satre said.
The proposal to do away with the ordinance was sparked by an application for a variance submitted last year by the state Department of Transportation for a road construction project 30 miles out Glacier Highway. The project is in the vicinity of several eagle nests, and involves rock blasting to realign the road.
Bald eagles were removed from the Endangered Species List in 2007, and the US Fish and Wildlife Service has relaxed federal protections for the birds. In fact, developers can now apply for a federal permit allowing them to "take" or kill an eagle by accident. Previously any death – intentional or not – was against the law. The agency also stopped providing opinions to the city regarding its eagle nest ordinance in 2008.
The city ordinance has been on the books since at least the late 1980s. It restricts development within 330 feet of an eagle nest.
City Manager Rod Swope – who has an undergraduate degree in biology – asked the Community Development Department to re-write the rule to be more in-line with federal regulations.
"We frequently get into situations where we may be dealing with fish and wildlife resources. And we have no biologists, and quite frankly we really have no credibility to be making conditions and decisions on those resources contrary to what a state or federal agency may be suggesting," Swope said.
Community Development Director Dale Pernula revised the ordinance as Swope directed. Since 1995, Pernula says there have been 37 applications for variances from the rule. He says three of those were withdrawn, one appeared to go nowhere at the Planning Commission, and 33 – including the state DOT project – were approved, usually with conditions.
"Some of them are fairly costly. Sometimes it requires an eagle nest monitor to watch to see what kinds of activities are interfering with the nesting activities. Probably the most onerous conditions that we've had were with respect to blasting," said Pernula. "We had some conditions that they could not blast at certain times of year, because it would interfere with those nesting activities."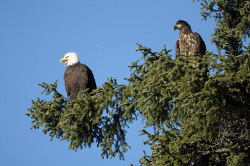 Conservation groups are fighting changes to the ordinance. Jeff Sauer, Vice President of the Juneau Chapter of the Audubon Society, says in many cases, the local rule is the only thing protecting eagles.
"The federal fish and wildlife permit is not mandatory. It costs 500 dollars, and for small developers and for citizens, they simply won't apply. They won't spend 500 dollars on a permit when they don't have to," Sauer said. "That leaves the borough ordinance as it in many, many small cases."
The Assembly sent the ordinance back to the Planning Commission without any specific instructions for how it should be revised, if at all. Assemblyman Randy Wanamaker said his feeling is that the city ordinance should not be more stringent than federal rules.
"Alaska's a vast state and the eagles are virtually everywhere, and we have federal policy, federal guidelines, and the city should be consistent with federal guidelines," said Wanamaker.
But Assemblyman Jesse Kiehl said there's a reason the ordinance has been on the books for so long: community values.
"CBJ is really in our land use, and planning processes, and permitting processes, looking more and more often at the community value element," Kiehl said. "So I'm inclined to keep these ordinances on the books for now and encourage the Planning Commission and other appropriate agencies to see if we can find a way to make them more flexible if that's a need."
Planning Commission Chair Satre said the ordinance will initially go to the commission's Title 49 Committee for review. Title 49 is the section of city code dealing with land use rules and regulations. Satre thinks the Planning Commission could have a recommendation for the Assembly by this summer.