The Juneau Assembly has appointed Kim Kiefer as the next city manager.
The longtime city employee, and current deputy manager, will replace Rod Swope, who's retiring March 31st. Casey Kelly has more.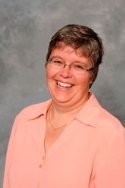 Kim Kiefer was all smiles after the assembly announced her selection at the end of Monday's regular meeting.
"I am very honored. And I'm very appreciative of the Assembly to give me this opportunity," says Kiefer. "And through this process I've been very humbled by the outpouring of support I've gotten from the community, whether it's been in the grocery store, or walking on the street, people stopping and saying, 'Hey, we think you're the best.'"
Kiefer moved to the Capital City in 1971, and graduated from Juneau-Douglas High School in '77. After earning a degree in Parks and Recreation Management from the University of Oregon, she moved back to Juneau and started working for the city in 1984. Over the years she served as Zach Gordon Youth Center Manager, Recreation Superintendent, and Parks and Recreation Director, before moving up to Deputy City Manager in 2005. She served as Acting City Manager in 2009 while Rod Swope took a six month sabbatical.
Despite all that experience, Kiefer says there will be a learning curve as she adjusts to the top job.
"The way Rod and I split up departments right now, he sort of has part of them and I have part of them. So I need to understand the issues with those other departments and what's coming forward," Kiefer says. "And then it's working with the administrative team and seeing where we want to take this organization. It's a great organization and I'm passionate about it and we've got a wonderful administrative team as well as great CBJ employees."
Right out of the gate, Kiefer will have to deal with a 7.5-million dollar projected shortfall for the two-year budget cycle beginning July 1st. She describes her role in budget decisions while deputy manager as "hands on."
"In fact, when Rod left last time, I started the budget cut list in FY10 and worked right beside him throughout that process. And I'm doing the same thing this year," she says.
Another pressing matter will be hiring a replacement for herself. Kiefer says if there's one thing she learned as acting manager, it's that the job needs two people.
"There's a lot going on with this organization. A lot of just day to day things, as well as working to help the assembly to meet their goals and objectives. So there's plenty to do for two people full time," she says.
The assembly undertook an expedited search for Swope's replacement, putting a high priority on candidates with Alaska experience. Twenty-five people applied for the job, and Kiefer and Coast Guard Captain Norman "Buddy" Custard were named finalists in mid-December.
Kiefer's selection was not unanimous, as Assemblyman Randy Wanamaker objected to the hiring process.
"Given the economic and demographic challenges this community faces, the compressed selection process that we used and the fact that we do not have a plan to deal with this budget deficit, I am not able to support this nomination," says Wanamaker.
He was unavailable for comment after the assembly meeting.
Kiefer says she wasn't bothered by Wanamaker's no vote. She says she'll work to foster good relations with every member of the assembly.
"That's part of the first hundred days once I take over is to work on those relationships individually and find out what they need from me and what I can provide them to help them be successful," she says.
Kiefer's starting salary will be 145-thousand dollars a year and she'll serve at the pleasure of the assembly.
Mayor Bruce Botelho declined to comment about the selection. But in a press release he called Kiefer a "natural choice… with an excellent understanding of the needs of the community."
City Manager and City Attorney are the only positions hired by the Assembly.