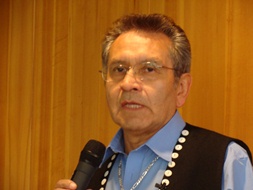 Rural Alaska's economic and social problems require greater cooperation between Native Corporations and federally recognized tribes, says Tlingit and Haida Central Council President Ed Thomas.
"We have very weak rural economies, we have high cost of energy that leads to high cost of living, higher cost of survival in our communities," he says.
Thomas says past conflicts between Native tribes and corporations have largely risen from the belief by some that the Alaska Native Claims Settlement Act was a termination policy. That is, an act designed to make Native people assimilate into American society.
"Some of those folks that were anti-ANCSA felt that, well if we get rid of ANCSA then the land probably would go to the tribes," says Thomas. "That really is very far-fetched, if not impossible."
For one thing, Thomas says there's no political will to take land from ANCSA corporations and give them to tribes. For another, corporate land is very different from tribal land, which is usually locked up in some sort of trust.
Subsistence is another issue that has divided tribes and corporations. ANCSA basically extinguished Alaska Native hunting and fishing rights, which Congress tried to address with the Alaska National Interest Lands Conservation Act. But Thomas says there are still those who think doing away with ANCSA is the way to restore full subsistence rights.
"While I generally agree that we can probably get rid of that one provision and it would improve things. I don't agree that you have to throw everything out in order to accomplish that issue with subsistence," he says.
Rather than debate the merits of the 30- and 40-year-old laws, Thomas says tribes and corporations should work together to accomplish what's best for Native communities. It won't always be easy, he says, but it's essential for those communities to survive.
"We are a broad state, we have a lot of differences geographically and culturally, and lifestyle. So, it's in our best interest to try to find areas of commonality and agree upon it. And where we disagree, agree to disagree and move on," he says.
Thomas spoke yesterday (Thursday) at Sealaska Heritage Institute's annual Native American Heritage Month lecture series.
The Tlingit and Haida Central Council is the sovereign tribal government for more than 27-thousand Southeast Alaska Natives worldwide.