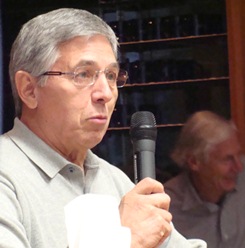 Sealaska director and former CEO Byron Mallott says the Alaska Native Claims Settlement Act is a work in progress.
Mallott kicked off Sealaska Heritage Institute's annual Native American History Month lecture series last week (Friday), by calling the landmark piece of federal legislation "unfinished business."
"It's unfinished in the sense that it has been amended many, many times in order to be responsive to changing public policy, the changing aspirations of Native peoples themselves," says Mallott. "But it has also big chunks of it need to be rationalized and dealt with."
Sealaska is one of twelve regional Native corporations created by ANCSA in 1971. Each received land to settle the various aboriginal claims of Alaska Native people. The settlement also included compensation of nearly a billion dollars that was split between the companies. A thirteenth corporation was later formed for so-called "landless Natives."
Mallott hopes ANCSA will be amended in the future to allow land swaps between Native corporations, tribes, and the federal government.
"There are Native lands in Native ownership that probably should best be in public ownership. There are public lands that if you really look at them, have more the attributes of Native places," he says. "And the biggest one of all to me, is how do we keep those lands which are now essentially corporate assets? Even though they are protected in modest ways, they are not tribal lands in the legal sense, even though we believe they are tribal lands in the Native sense."
Mallott did not touch on it in his speech, but legislation sponsored by Alaska's Congressional delegation would allow Sealaska to complete its ANCSA entitlement by choosing land outside the act's original boundaries.
The Sealaska Heritage Institute lecture series continues next Monday. Tlingit and Haida Central Council President Edward Thomas will describe the interrelationships between Alaska Native Corporations and tribes.