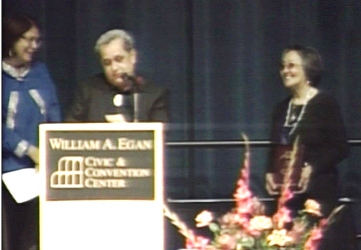 Sealaska Heritage Foundation President Rosita Worl is the Alaska Federation of Native's Citizen of the Year.
Worl was presented the honor on Friday at the annual convention in Anchorage. It is the highest award given by the AFN Board of Directors.
AFN President Julie Kitka said Worl has dedicated her life to working for Alaska Natives "from one corner of the state to the others."
"I venture to say there's nobody's life that's not been touched by the efforts that she has put into her work helping the Native community over her lifetime," Kitka said.
Worl, an anthropologist with a Ph.D. from Harvard University, also serves on the AFN Board of Directors, the Sealaska Corporation board, as well as numerous other boards and commissions.
She said no one works on their own. Asking her family, friends, colleagues, and all subsistence users in the audience to stand, she told the crowd:
"You are my source of inspiration. You are the ones who give me strength. You are the ones who make me believe that our way of life is worthy of protection."
The annual AFN convention ended over the weekend. It was carried live on 360 North and will repeat beginning Monday, October 31. For details and times, go to www.360North.org.