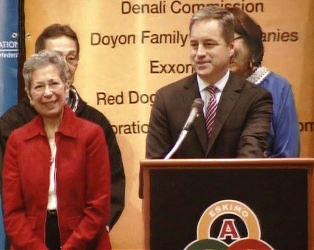 SEARHC President Emeritus Ethel Lund, of Juneau, has received an award for her work in protecting and promoting respect for Alaska Native women and children.
Gov. Sean Parnell today (Friday) presented Lund the Shirley Demientieff Award at the Alaska Federation of Natives Convention in Anchorage.
The award is given at AFN every year by the governor for advocacy on behalf of Alaska Native women and children. Parnell has vowed to reduce domestic violence and sexual assault during his administration.
During his AFN speech, he pledged an additional 15 Village Public Safety Officers for rural villages next year as well as more money for rural education.
"We will not rest as long as the epidemic of domestic violence and sexual assault steals the hopes and dreams of women and children and men in this land," Parnell said.
Demientieff was a prominent Athabascan activist and community leader. She died in 2007, known for her work to curb suicide, domestic violence and sexual assault among Native people. She helped found Alaska Natives Standing Up for Justice, which criticized the treatment of Natives in the justice system.
Lund, a Tlingit, is known statewide for her work in health care. A founder of the Southeast Alaska Regional Health Care Consortium, she helped develop a landmark agreement with the federal Indian Health Service. The Juneau SEARHC clinic is named for Lund. She currently oversees regional operations and village-based health programs across Southeast Alaska.
Lund described Demientieff as "a gracious and caring woman" who had an impact on the entire state. She said she was humbled to receive the award for her work.
"I feel doubly blessed that my life's work has been one of challenge and reward," Lund told the AFN crowd. "It involved my mind, heart and soul."
Lund is a former president of the Alaska Native Sisterhood Grand Camp, as well a local president of ANS Camps 1 and 70. She has served as chairwoman of the Alaska Native Health Board and Alaska Tribal Health Directors, and was vice chair of the National Indian Health Board.
She was president of SEARHC at its founding in 1975 and has been President emeritus since 1999. SEARHC is one of the largest health care organizations in Alaska.