To most people it probably seems like an odd arrangement, but it's fairly typical in the health care industry. Bartlett Regional Hospital is owned by the City and Borough of Juneau and governed by a board of directors appointed by the CBJ Assembly. The board hires a professional management company – Quorum Health Resources – to run the day-to-day operations of the hospital.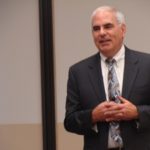 "The board I think can rely on us to make sure that those aspects of the operations are being addressed. Allowing them to focus on the strategic decisions of how do we better meet the needs of the local community," says Bill Donatelli, Quorum's Vice President of Western Operations.
As the nation's largest hospital management company, Quorum works with about 150 facilities nationwide. Contracts vary, but usually a local board will hire a Chief Executive and Chief Financial Officer who are also employed by Quorum. Donatelli says the legal term is "borrowed employee."
"We assume some responsibility for their performance as our employee, so it gives the board added protection in terms of making sure the job gets done," Donatelli says.
But in its next contract, the Bartlett board wants its CEO and CFO to be independent from the management company.
"We want ensure that Bartlett Hospital's interests are the primary interests, and that there's no confusion about whether the management company's interests are in any way taking precedence," says Board President Kristen Bomengen.
Bomengen says the desire to have more control shouldn't be seen as a sign of dissatisfaction with Quorum, and it's too soon to say if the board will seek to change Bartlett's leadership team.
"We're going to take up the contract negotiations first, and it will become more apparent to us just what direction to follow once we've completed that," Bomengen says.
One of Quorum's selling points in its pitch to the board was the stability of senior management during the 23 years the company has worked with Bartlett. CFO Garth Hamblin has worked at the hospital nearly 25 years; and while CEO Shawn Morrow just came to Juneau in 2007, he's only the second CEO during Quorum's tenure. For his part, Morrow says he's not too worried about the board's decision to exercise more control.
"You can't be a successful CEO if you're looking at the job through the eyes of self-preservation. It just doesn't work," Morrow says.
He says he intends to stay in Juneau as long as the board wants him here. Morrow admits to being impressed with the board's process for soliciting management contract bids.
"What I've learned over the years is just let the process work. And if the process is a good one like ours was, whatever the conclusion, whatever the decision, you can live with it, because it's been thought through from the standpoint of what is in the best interest of the hospital," says Morrow.
If negotiations with Quorum aren't successful the board has a second choice – PeaceHealth. But officials from that company explicitly said Bartlett would get a lower level of service if the board chose to hire its own executives. Quorum's Donatelli says the company will try to work with the hospital regardless of the arrangement.
"I think the hospital has done a great job of serving the local community, I think we've done a great job supporting the local board in making those decisions that have allowed them to serve the local community and provide quality health care here," Donatelli says. "And we're proud of that and want to continue that relationship."
Bomengen says the decision to stay with Quorum came down to other services offered by the company. The hospital's management contract also covers purchasing supplies, which are discounted through Quorum's hospital network. It also covers physician recruitment, and leadership training, strategic planning and consulting services for managers and board members.
"So there's a range of management services that are particular to the health care industry that we are able to benefit from and that we would otherwise have to seek individual consultants for if we did not have a management services contract," says Bomengen.
Quorum is currently paid between 350- and 400-thousand dollars a year depending on the Consumer Price Index. That's separate from the CEO and CFO salaries. The company is seeking a similar amount in its new contract.
Bartlett Regional Hospital is a self-sustaining enterprise fund of the City and Borough of Juneau. It makes money by charging patient fees.